In spite of the pouring rain on Sunday July 26th, a few valiant souls were treated to the sight of approximately 36 moths. Our local expert David Brown had laid a moth trap near the wood on the previous night. He was able to place the moths in specimen jars so that all enthusiasts could admire the size and colour of these amazing creatures.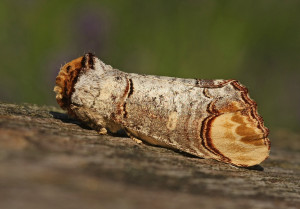 Particularly memorable were the large emerald, which normally flies high, and the Buff tip, which has the appearance of a twig in silver birch markings. The camouflage effect of these markings was amazing to behold after David carefully returned each moth to the wild.
Moths are responsible for some pollination. Therefore their conservation is important, not just for their intrinsic beauty, but also for their contribution to our human food chain.
Here we have demonstrated again the importance of maintaining Oakley Wood, and indeed our own gardens with the specific flowers and trees to provide food sources for the caterpillars. We are fortunate to have experts like David to advise Warwickshire Wildlife Trust on habitat and best practice to support butterflies and moths.
David said he would try to do another walk with us, so let us hope that rain will not strike twice.
Featured photo: Large emerald, ©Nutmeg66. CC-by-nc-nd