We've produced a map to help you find your way around the wood, and to help people reporting things they've seen in the wood. The map includes a simple grid that can be used to quickly describe where abouts you saw that woodpecker, or where the fallen tree is blocking the path. Just find the spot on the map and look up the grid co-ordinates. For example, the timber loading bay is at F8.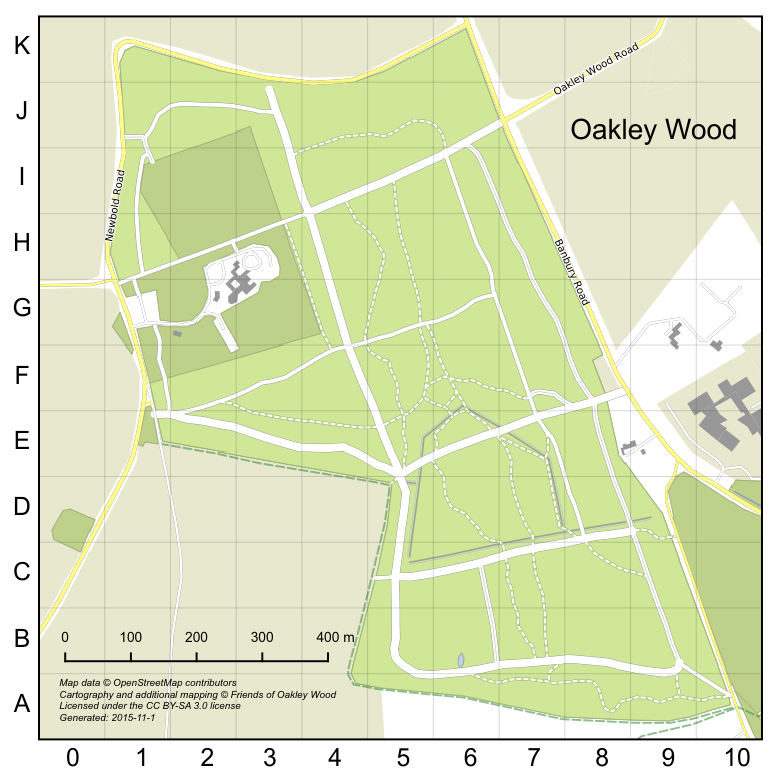 You can also view a version with a key and OS grid, or download a printable PDF version of the map
About the grid
The grid is based on 100m squares and is aligned to the Ordnance Survey National Grid. The south west corner of grid square B0 lines up with the OS 1km grid square at grid reference SP300590. The printable PDF version of the map includes the full OS eastings and northings for each square.
Converting to the OS National Grid
To convert from an Oakley Wood map reference to a 6 figure national grid reference follow the following steps:
The eastings (the first three numbers) are found by adding 300 to number of the map square. The northings (fourth, fifth and sixth numbers) can be found by looking up the letter of the map square in the following table:
| | |
| --- | --- |
| A | 589 |
| B | 590 |
| C | 591 |
| D | 592 |
| E | 593 |
| F | 594 |
| G | 595 |
| H | 596 |
| I | 597 |
| J | 598 |
| K | 599 |
For example, for map square D6 the eastings are 306 (300+6), northings are 592, so the six figure national grid reference is 306592. The prefix is always SP.
Get the data
For creating your own maps or using in your GPS, we have made the data behind our map available in a variety of formats, including ESRI SHP, GPX and KML.
New GPS-coordinated map
Paths in the wood are constantly evolving, some appearing and others becoming unused and overgrown. The woodland management over the years since purchase by WDC have hastened changes and the need for an updated map.
The new map has been gridded with GPS coordinates (latitude and longitude) so as to be more usable with the coordinates generated by mobile phones. Comparison of this with the original OS map will provide a rough conversion between the two coordinates systems.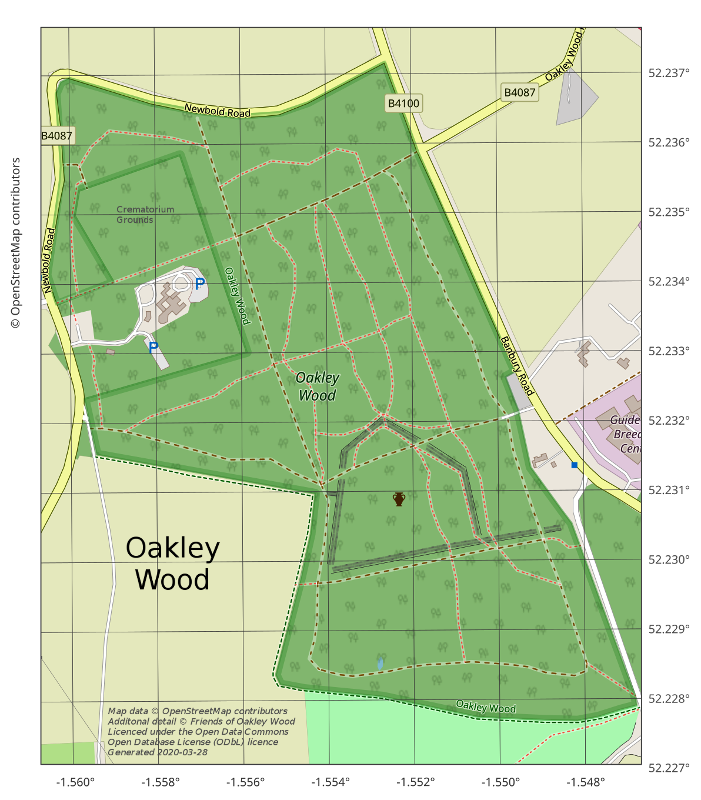 A printable version of the map is here.