Oakley Wood is a 47ha (116 acre) woodland with public access situated just south of Leamington Spa in Warwickshire. The wood is a Plantation on Ancient Woodland Site (PAWS)—that is, a site which has been continuously wooded since at least 1600, but which has more recently had most of the native broadleaved trees felled and replaced with a commercial conifer crop. Records of the wood date back to 12th century and it contains a scheduled ancient monument known as Oakley Wood Camp.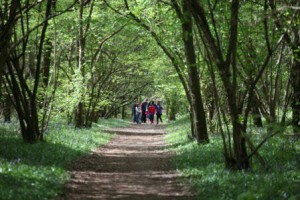 The wood was purchased by Warwick District Council in 2008 to ensure continued public access. Today the District Council works in partnership with Warwickshire Wildlife Trust and the Friends of Oakley Wood to ensure it is managed sustainably for the benefit of local people and wildlife.
Because Oakley Wood has been woodland for so long it has the potential to be very important for wildlife. It is a particularly important site for butterflies, supporting 70% of the species found in Warwickshire, and is well known for its displays of bluebells in the spring. The long term aim of the partners is to return the wood to being a native broadleaved woodland, improving its conservation value and providing a beautiful place for visitors to enjoy. To help achieve this aim a management plan has been produced to guide work in the wood.