Come along and get involved in the practical maintenance of the wood with Warwickshire Wildlife Trust.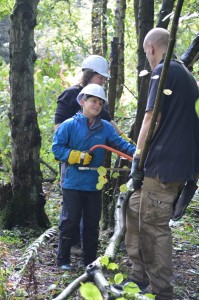 Coppicing is a traditional woodland management technique that produces a continuous supply of small diameter timber for things like fencing stakes, hurdle making and firewood. It's also great for wildlife because it ensures diversity in the age and height of trees and shrubs in the wood, providing a range of different habitats.
This is a chance to learn new skills, make new friends and make a real difference to Oakley Wood. It also burns up calories but is a lot more fun than going to the gym!
Meet in the Crematorium car park at 10:30. As this is a week day there may be services being held, so please use the first car park on the left as you come in (map square G1 (NGR: SP301595)) and park considerately.
Please let James Harris at WWT know if you plan to come so that he has some idea of how many tools to bring along.