Restoring our native woodlands for people and wildlife
(This article is based on information provided by Karl Curtis of the Warwickshire Wildlife Trust)
Oakley Wood was clear felled just after the second world war to provide much needed hardwood for building work, pit props and fuel to get the nation back on its feet. Years later, to fulfill the continuing demand, the wood was over-planted with fast growing conifer species which were dominant at the time it was purchased by Warwick District Council.
The process of returning it to a native, broad-leaved woodland began in 2011 with major thinning operations. This was followed in 2014 with further thinning and work to widen the rides, the main paths through the wood. Regular visitors will be aware of ongoing ride work than has been undertaken over the last 5 years, improving the woodland edge corridors around the path network to let native species thrive again.
Warwickshire Wildlife Trust who manage the wood on behalf of WDC has produced a 10-year plan, approved by the Forestry Commission, that aims to return Oakley to a broad-leaved wood , the overall vision being to develop a vibrant woodland for the benefit of local people, rich and diverse in wildlife, and sustainably managed.
The next phase of the work, starting this autumn, will be to thin certain areas where conifer trees dominate in order to promote the establishment of native species. This will be done by taking out around one third of the trees across selected areas, favouring the retention of native broad-leaved species. These areas are in the north and east of the wood – details of where the work is taking place can be seen on the map below.
In the areas with the highest proportion of conifers and where natural regeneration of broad-leaved trees would therefore be unlikely, nine 30 m holes ("coupes") will be punched in the wood to create clearings where native broad-leaved species can be planted after operations are complete. These openings will start to provide age and structural diversity in the wood, as woodlands that are the healthiest have a variety of stages of growth and a diversity of species, helping them be resilient to disease and climate change.
The work will be carried out by contractors and whilst woodland management can look destructive and cause some temporary inconvenience around access, the woodland soon recovers. During the work the contractors will avoid using the path network wherever possible and any areas that are disturbed that are used by the public will be put right at the end of the operations. Paths through the areas affected are likely to be closed at times. Visitors are asked to take precautions, stay away from timber stacks and adhere to any warning signs.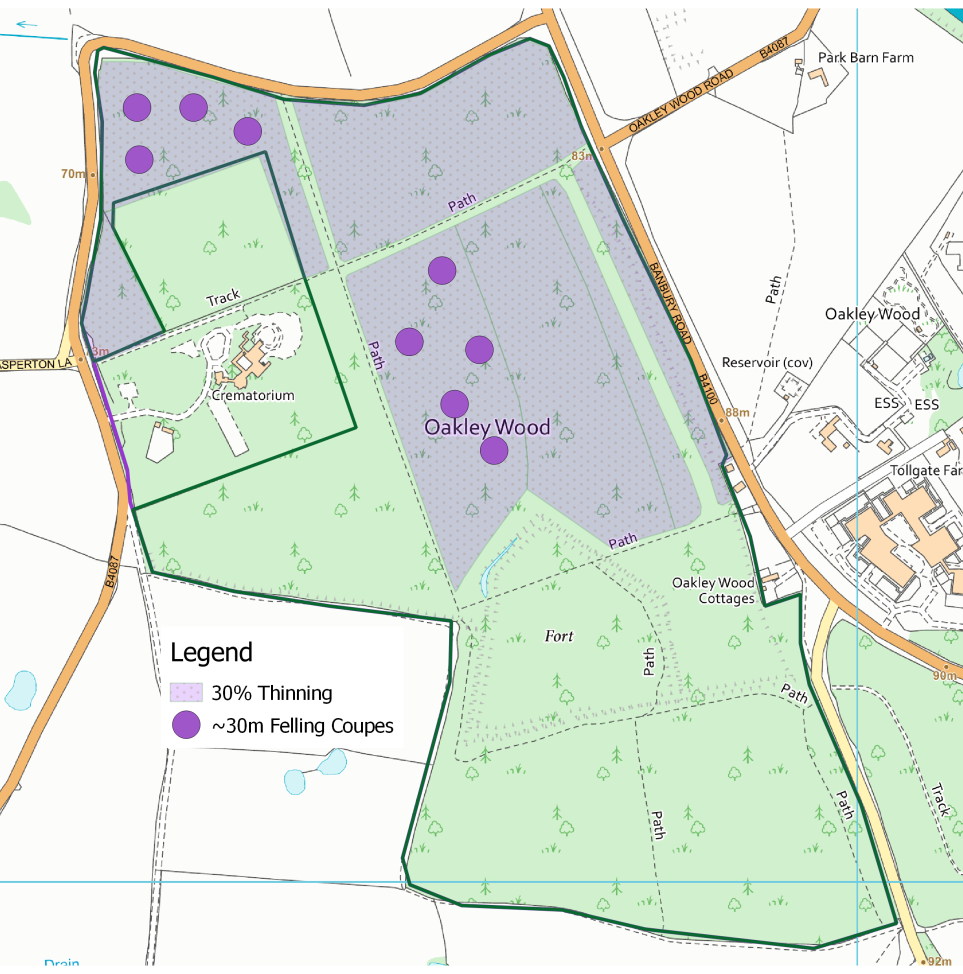 Woodland management is essential for the future enjoyment of people and wildlife – woodlands live in hundreds of years as opposed to decades. One of the biggest threats to woodlands is not managing them, and therefore we appreciate your patience and understanding whilst this vital work is carried out.
If you have any questions, contact this site or Warwickshire Wildlife Trust via their website at www.warwickshirewildlifetrust.org.uk