The results of the first BioBlitz in Oakley Wood are in! The event, on 12 April 2014, was a great success and thanks to all the enthusiastic surveyors who came along and helped out on the day we found a grand total of 221 different species!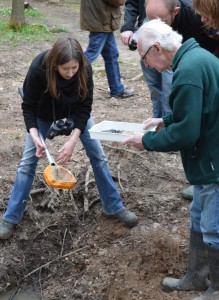 27 species of bird were spotted, 17 species of fungi and 66 invertebrates. Surprisingly, given that Oakley Wood is known as a good site for butterflies, only one species of butterfly was recorded.
One notable disappointing area was the pond (map square B6 (NGR: SP306590)), where despite finding a smooth newt in the first few minutes of dipping, very little else was found. This is perhaps because it has been in deep shade for so long, and it will be interesting to see if the recent ride management work, which has opened it up, leads to more species being found in future years.
Here's the full list of species found, and you can find more pictures of the day on the Warwickshire Wildlife Trust Flickr page.